My beloved and loyal fiction publisher, Goose Lane Editions, had its 60th birthday in September (2014). Part of the celebration was the publication of a little boxed set of similarly designed small books, six@sixty, one short story each by esteemed Goose Lane authors over the years: Giller Prize winner Lynn Coady, Mark Anthony Jarman, Alden Nowlan (whose house I used to visit when he was alive, back when I was a reporter at the Evening Times-Globe in Saint John, New Brunswick), Shauna Singh Baldwin, and Kathryn Kuitenbrouwer, as well as me. All the books look like mine but in different colours. It's a lovely gesture, a limited edition, simple and elegant. Also mine is very cute, like a book you can keep as a pet.
My story, "Woman Gored by Bison Lives," is from my book A Guide to Animal Behaviour, which Goose Lane published in 1991. It was shortlisted for the Governor-General's Award for Fiction that year.
It's a melancholy love story about a lesbian couple in Saskatoon. They watch an English tourist gored by a bison, and subsequently one of the lovers dies of cancer. I was learning to write aphorisms in those days. The story ends with a little run. This is the surviving lover talking to a three-year-old child: "There are certain things you have to know. Suicide is not an option. Life is always better under the influence of mild intoxicants. Masturbation is healthy, the sooner started the better. It's a sin not to take love where you find it. That is the only sin."
.
New story collection published fall 2013. Now out in paperback. Click on the image.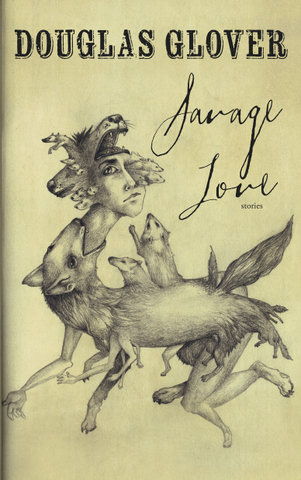 "This was, hands down, the best book I read in 2013." Steven W. Beattie National Post
"Douglas Glover, the mad genius of Can Lit…" Caroline Adderson Globe and Mail
"I, your admiring reader, report myself ever again restored to find in hand the company of your righteous sentences, shout hooray, shout hooray, even splendid, splendid, splendid (borrowing from the great poet Jack Gilbert), like loins, he wrote, like Rome, he wrote . . . ."
— Gordon Lish, author of What I Know So Far
"What unifies this collection is the characteristic excellence of Douglas Glover's prose. Otherwise the book is hugely, even shockingly varied in its narrative strategies, its settings, its tones, and its characters, who range from broadly comic figures to a killer so warped by war that he makes the psychotic Judge in Cormac McCarthy's Blood Meridian look benign. This book is urgent, ardent, obsessive, and remarkable."
— Steven Heighton, author of The Dead Are More Visible
"Savage Love provides more evidence: nobody alive constructs more perfect stories than Douglas Glover. His art is exquisite, conclusive, stainless — but also wide-awake and breathing. That is to say, he's no mere craftsman. In Savage Love, he manages somehow to be both Geppetto and the magic life-giving kiss."
— Darin Strauss, author of Half a Life
.
.
Photographs below were taken by Douglas Glover except for the ones in which he appears, which were taken by Jacob Glover (Nova Scotia beach pictures), Katharine Abbott (father & son photo), and Melissa Fisher (British Columbia beach picture).
This slideshow requires JavaScript.
 "And I thought how Proust teaches us that all love resides
in anticipation and not the beloved,
that love achieved is only on loan,
that we are martyrs to our desires, which are endless."
Douglas Glover, Savage Love